My kids love Whoopie Pies. They laugh out loud and celebrate whenever I tell them that I am making them.  This year, we will celebrate St. Patrick's Day with family and friends, so I will be making our special St. Patrick's Day whoopie pies to take along.
Deliciously soft and a little squishy, these pies won't last very long. And I love that they are vegetarian, gluten and dairy free, so all of our friends can enjoy them together.
Whoopie Pies make every celebration just a little sweeter.
For more delicious vegetarian recipes for all your entertaining needs, please visit our recipe page.
Need help finding vegetarian items in your grocery store? Download our free mobile app with scanner today to ease the stress of shopping for vegetarian and vegan products.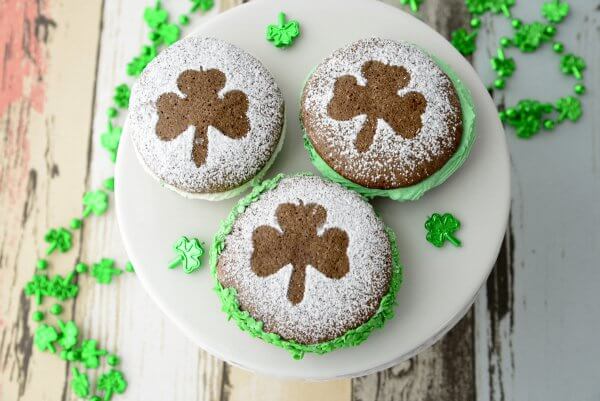 | | |
| --- | --- |
| | |
In a large bowl, measure out the gluten free all purpose flour mix, sugar, cocoa powder, baking powder, baking soda and salt. Whisk well until well incorporated.

In a separate bowl, combine the eggs and vegetable oil. Whisk well.

Combine egg mixture to the dry and mix well. Batter will be stiff.

Slowly add the hot coffee to the batter. Stir until completely incorporated.

Add vanilla extract to the batter and stir until well blended.

Drop evenly spaced rounded tablespoons of batter on parchment paper or silpat covered baking sheet. Gently form into a circle. The batter will spread. I only bake 6 on each baking sheet.

Bake for 10-12 minutes. Transfer to a cooling rack and allow to cool completely.
While cakes are cooling, prepare the filling. In a bowl, combine butter and vegetable shortening. Whip together until light and fluffy.

With mixer on low, slowly add powdered sugar to the bowl. Once all the powdered sugar is incorporated, add mint extract then blend on medium low until smooth and creamy.

If desired, add food coloring, 1-2 drops at a time until frosting reaches desired color.

If filling is too thick, add milk 1 tablespoon at a time, blending well after each addition until frosting reaches the desired consistency.
Pipe or spoon a generous amount of filling on the bottom of a circle. Top with another circle, gently pressing down into the filling. Repeat with remaining circles and frosting.

If desired, roll pies sides in sprinkles.

Sift powdered sugar over tops of completed pies. To leave the shamrock in the middle of the pies, simply place a large shamrock shaped paper (I used a sticker) in the center of the pie. Sift powdered sugar over the pie and then carefully remove paper.
Store any leftover whoopie pies in an plastic storage bag in the refrigerator.
This Whoopie Pie recipe is gluten free, dairy free and vegetarian.