Swiss chard is one of those power greens like spinach and kale. Loaded with vitamin A, K and C as well as dietary fiber, iron, potassium, and magnesium, It is in the same same family as beets, spinach, and quinoa. To me, the taste of cooked Swiss chard is very similar to spinach. Raw, it is bitter like kale and can be chopped up and added to salads. You might also find it labeled as silverbeet or strawberry spinach.
This easy recipe is delicious and comes together quickly. Sautéed Swiss Chard is a great side dish for any meal, but it is fantastic all on its own. A big bowl for lunch on a cold day makes me very happy.
You will need five pounds of Swiss chard for this recipe. When chopped, you should have about sixteen to twenty cups of roughly chopped chard. It seems like a lot, but it will cook down to a fraction of what you started with.
For more delicious vegetarian recipes for all your entertaining needs, please visit our recipe page.
Need help finding vegetarian items in your grocery store? Download our free mobile app with scanner today to ease the stress of shopping for vegetarian and vegan products.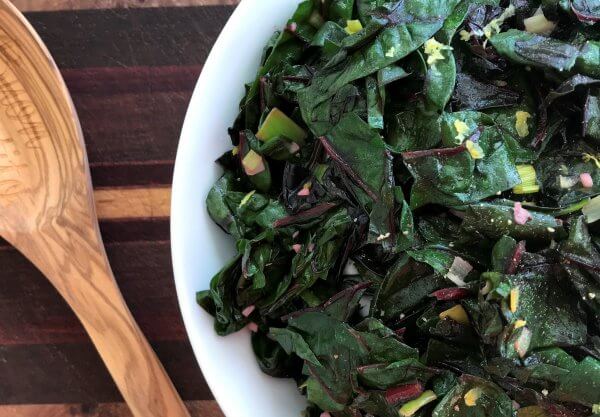 | | |
| --- | --- |
| | |
Wash and drain the Swiss chard. Remove and discard the stems. Wash the leek well to remove any dirt in between the layers.

Roughly chop the Swiss chard and set aside.

Finely dice the leek and set aside.

Heat the oil in a large Dutch oven or sauté pan.

Add the leek and garlic and cook for 5 minutes.

Add the Swiss chard in batches and stir. It will cook down rather quickly, so keep adding the chard as your pan allows.

Cook for 4-5 minutes and remove from the heat.

Transfer the chard to a serving dish. If desired, sparingly zest a lemon over the dish and sprinkle with a small amount of salt and pepper.
This Sautéed Swiss Chard recipe is vegetarian, gluten and dairy free.