This strangely named cake has been a popular dessert in the south since the 1970. But the origins of the Hummingbird cake's name are still a mystery.
Luckily, for our amusement, there are several theories. One theory is that the cake is so delicious it makes you hum with happiness while you eat it, while another is that the cake is sweet enough for hummingbirds. Another popular theory is that people hover around the cake exactly the way that hummingbirds will hover around flowers.
Whatever the name, this lightly spiced cake with bits of pineapple and banana, is simply delicious. Traditionally paired with a tangy cream cheese frosting, but is equally great with whipped cream frosting, buttercream frosting or plain.
This recipe makes a spectacular layer cake, either with three or six layers, as a sheet cake to feed a crowd or as cupcakes, ready to celebrate any occasion. You don't even have to frost this cake for it to be delicious. My family loves to grab plain Hummingbird cupcakes, sprinkled with raw sugar, for a quick sweet on the go.
For cream cheese frosting lovers, try our cream cheese frosting to frost and fill this crowd pleasing cake.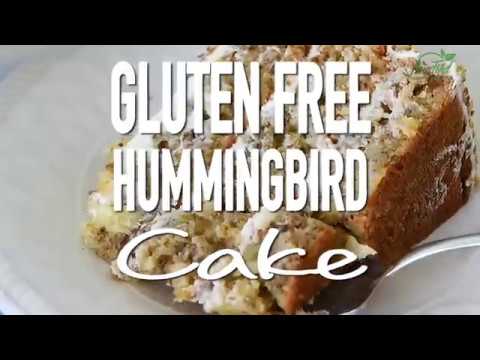 To see more of our videos, check out our video page.

| | |
| --- | --- |
| | |
Preheat oven to 350°. Spray three 9" round cake pans with cooking spray, cover bottom of cake pans with parchment paper and then lightly spray parchment paper with cooking spray.

Finely chop pecans and place on a baking sheet. Toast for 6-8 minutes, turning halfway through. Set aside to cool.

In a bowl, whisk together all-purpose gluten free flour mix, xanthan gum (if not in mix), granulated sugar, baking powder, baking soda, salt, cinnamon,and nutmeg.

In another bowl or stand mixer, combine eggs, vegetable oil, vanilla extract, and the crushed pineapple and juice.

With mixer on low, add the dry ingredients a little at a time to the wet ingredients until all the dry ingredients are incorporated.

Add the diced bananas and one cup of the finely chopped pecans to the cake batter and mix just until incorporated.

With a one cup scoop, equally divide the batter evenly between the three pans.

Bake in a 350° oven until the top springs back from a light touch and a tester inserted into the center of the cake come out clean.

Allow cakes to cool on racks for 5 minutes before removing them from the pans. Allow cakes to cool completely before frosting. Chilling the layers before assembly will make the layers easier to handle.

Fill and frost the layers by slicing each layer horizontally in half and stacking with a small layer of frosting in between each layer. If desired, leave the layers whole, stacking with frosting in between each layer
If your gluten free flour mix does not contain xanthan gum, add 3 teaspoons of xanthan gum to your dry ingredients.
This Hummingbird Cake recipe is dairy free, gluten free, and vegetarian and will make 36-40 cupcakes.