Taco night. Tacos are one of those dishes that guarantees full family participation in my kitchen and at our dinner table. Even our grown children will come home for dinner if they find out that we are having tacos. I used to buy taco seasoning packets. It was just too easy to go down the grocery aisle and throw a handful of packets in my cart. They lasted forever, so I always like to have extra. Once we found out about food allergies in our family, I could no longer just throw things into my cart out of habit. I had to learn how to read labels. Have you ever read the back of a taco seasoning packet?
Some of the packets I read contained, milk or milk products, wheat flour, potato starch, sugar, preservatives and lots and lots of salt. Oh, and they contained spices too. In our family, someone is allergic to most of those extra ingredients. And why would you want them in your tacos anyways?
After reading lots of taco packet labels, I realized that the taste that we loved, the spice mix, was actually very simple. After several tries, I came up with this spice combination. For us, it is the perfect blend for our taco night.
And it only has one teaspoon of salt. Your body will thank you.
I find it especially delicious for my favorite, butternut squash and mushroom tacos. I use two tablespoons of taco seasoning to 6 cups of butternut squash and 2 cups of mushrooms. You can adjust the spice level of each of your tacos to your own taste.
This recipe is for the equivalent of one seasoning packet of taco seasoning mix, If you want to increase the recipe, just multiply by however much you want to increase the recipe by. If you want to double the recipe, just multiply the measurements by two, to triple multiply by three, etc.
Store your spice mixture in a labeled airtight container and keep it in a cabinet away from heat. I didn't label my first seasoning mix, and found three different mixes that weren't labeled. We had a couple of interesting tasting dinners. I always label my containers now. It will last for up to two years, kind of like those taco packets. It just doesn't get any easier than that.
For more delicious vegetarian recipes, please visit our recipe page.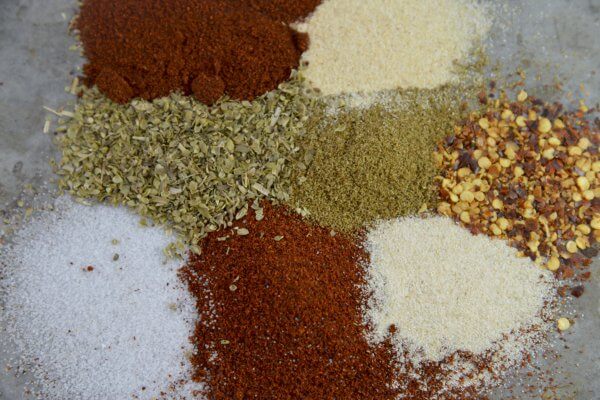 | | |
| --- | --- |
| | |
Mix all seasonings together in a small bowl. If you make extra, store in an airtight container and label.

To make taco-seasoned filling, sauté your chosen vegetable combination or brown your meat substitute.

Add seasoning blend, and 1 cup of water slowly. Simmer for about 20 minutes. I start with a half of a cup of water and then add the other half a little at a time to ensure that all the water is absorbed.
This Homemade Taco Seasoning Mix recipe is vegetarian, vegan, gluten free, and dairy free.