Throwing away food makes me a little crazy. For some reason, I always seem to buy more cilantro than I need for a particular recipe. Since I never seem to plan a couple of meals in a row that require cilantro, I needed to figure out something. In the past, I made pesto with leftover basil, so I thought, why not cilantro pesto?
I have found that pesto is a great way to reap the benefits of fresh herbs all year long. Pesto is versatile and easy to make.  Use your cilantro pesto on vegetables or toast, in rice or risotto, as well as a condiment on sandwiches. And of course, pesto is great with pasta. Just add some to cooked pasta and voila, a gourmet meal in minutes. Give your hot vegetables some added flair with this pesto and it would be fabulous with fried polenta. What you can do with pesto is pretty much limited only to your imagination.
Even if it is store bought cilantro,  This is a great way to use all of it and not throw any away. You do not need much cilantro to make pesto. Just adjust the recipe to the amount of cilantro you have.
We store our cilantro pesto in small Ball canning jars, label them with the date and store them in the freezer to use all year long. You can also freeze pesto in ice cube trays. Once frozen, throw your pesto cubes into a freezer safe zip lock bag. Pesto keeps well in the freezer for up to one year.
Small jars of pesto make excellent gifts too.
For more delicious vegetarian recipes, please visit our recipe page.
Need help finding vegetarian items in your grocery store? Download our free mobile app with scanner today to ease the stress of shopping for vegetarian and vegan products.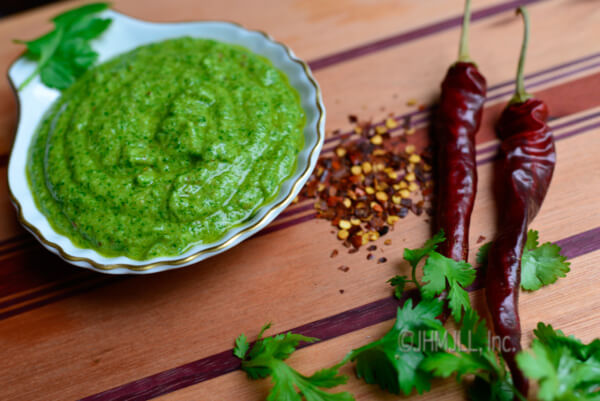 | | |
| --- | --- |
| | |
Place almonds in a food processor and pulse until the almonds look like breadcrumbs.

Add the cilantro, garlic, lemon juice, salt, cumin, and crushed red pepper. Pulse until it is well blended.

Slowly add the olive oil with the processor on low until the pesto is a creamy paste.

You can store cilantro pesto in small glass jars or fill ice cube trays with pesto and freeze. When frozen, store your pesto cubes in a plastic bag or container. Make sure to mark and date the container for storing.
This Cilantro Pesto is gluten free and vegetarian.