I love the combination of cinnamon, nutmeg and allspice. My grandmother used to bake a version of these walnut spice cookies all the time. My grandfather loved them as much as I do. There is something very comforting about the taste to me. During the holiday season, the majority of the baked goods that my family makes all seem to have some combination of these spices. These cookies just taste like home to me.
While these cookies will never win a beauty contest, they are my absolute favorite! I eat them for breakfast, lunch and dinner while they are around. Filled with my favorite spice trifecta, combined with the crunch from walnuts and raw sugar, these sweetly spicy cookies are a hit wherever I take them.
Make sure you have your own supply of walnut spice cookies because you won't be bringing any of these home!
These cookies are great for holiday cookie exchanges and gifts. If you want to mail a package of baked goods this holiday season, these are the perfect cookies. There is no frosting or decoration to mess up, so you can package them securely for transit.
I finely chop my walnuts, but if you prefer, you can rough chop them for a chunkier cookie and more pronounced walnut taste.
For more delicious, holiday vegetarian recipes, please visit our recipe page.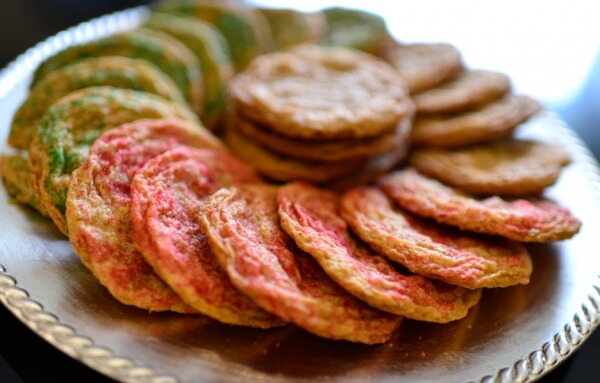 | | |
| --- | --- |
| | |
In a stand mixer, cream butter and shortening until light and creamy.

Add brown sugar and blend until well incorporated.

Add eggs and vanilla and blend until well incorporated.

In a separate bowl, combine baking soda, baking powder, flour, cinnamon, nutmeg, allspice. Whisk until well combined.

Slowly add whisked dry ingredients to the stand mixer in small batches, blending well after each addition. When all of the dry ingredients have been added, blend on medium for one minute to ensure all ingredients are incorporated.

Add chopped walnuts to bowl and mix on low until well incorporated.

Scoop out cookie dough by rounded teaspoon, lightly roll into a rounded shape and press top lightly into raw sugar. Place cookie on a silicone baking mat or parchment covered cookie sheet. If desired, sprinkle with a colored sanding sugar for decoration before baking.

Bake at 350 degrees for 8 - 10 minutes or until lightly golden and edges are set.

Place the cookie sheet on a cooling rack for a couple of minutes to allow cookies to finish baking. Remove cookies from pan and allow to cool completely.
*If your gluten free flour mix does not contain xanthan gum, add 1 teaspoon xanthan gum to your flour mix.
To freeze cookie dough, prepare cookie as if for baking, but do not top with sugar. Measure out the individual cookies on to a cookie sheet and place cookie sheet into freezer until cookies are frozen. Remove cookies from cooking sheet and place in a plastic freezer bag until needed. To prepare, remove from freezer and place on a silicone baking mat or parchment paper covered cookie sheet. Allow fifteen minutes to come to room temperature, top with sugar before baking according to directions.
This Walnut Spice Cookies recipe is gluten free, dairy free and vegetarian.