I started making Spanish Rice after watching my mother-in-law make it several times. It is one of my husband's favorites and was a staple in their home when he was growing up. I love walking into her home after she has cooked up this rice. The smell is just amazing.
Technically, this rice is considered a side dish, but there have been many days when it has served as my entire meal. Because it keeps nicely in the refrigerator, I always make a double batch for leftovers for a quick meal on busy days.
I am certain that one of the reasons that Spanish rice was a staple in their home was that it is a great way to use up leftover vegetables or sneak in fresh ones. If your vegetables are raw, dice and sauté them before adding them to the skillet with the broth. If your leftover vegetables are cooked, just dice and then add them with the broth.
This rice does not have to be spicy. Depending on what I am serving my rice with and who will be at dinner, I adjust the spice level. There are no rules and it is delicious with just salt and pepper. If you prefer a spicier rice, feel free to adjust the spices, to your preferred heat level.
Served with veggie tacos, avocados, pico de gallo, beans, and corn, this Spanish Rice completes a delicious and filling meal.
For more delicious vegetarian recipes, please visit our recipe page.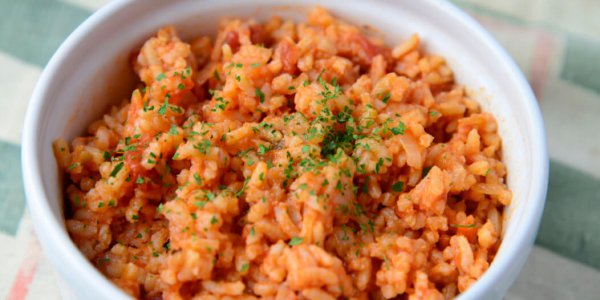 | | |
| --- | --- |
| | |
In a large skillet, heat oil over medium heat.

Add diced onion and rice, stirring occasionally, until the onion is soft rice is golden brown.

In a saucepan, measure out the chicken broth and tomato paste. Stir to mix. Heat until broth and paste are blended and warm.

When rice is golden brown, add broth mix to skillet and stir.

Add garlic and if desired, chili powder.

Bring to a boil, then reduce to a simmer. Cover and simmer until rice is tender, about 30 minutes. If the liquid is absorbed before the rice is cooked, add an additional 1/4 cup of warm broth.

Refrigerate any leftovers in an airtight container.
This Spanish Rice recipe is vegetarian, vegan, gluten free, and dairy free.