I love, love, love the smell of roasted garlic. Whenever I make it, people just start appearing, seemingly from nowhere to find out what that smell is.  It's actually pretty funny. Renee and I can make wagers on how long it will take someone to appear.
Every year we plant rows of garlic cloves to overwinter and shoot up early spring. It is one of the first of the plants that starts to grow. By early summer, we can see garlic scapes appearing in the rows of garlic plants. We are out collecting those delectable delicacies as soon as they appear.
My son has a friend whose Dad actually takes the tray of roasted garlic after it comes out of the oven and walks around the house, filling the air with the aroma of freshly roasted garlic. Yes, they are Italian.
You can use roasted garlic and spread it directly on crackers, in recipes or stored for later use. We actually freeze dry ours and then crumble it into a powder and use it in our recipes.
You can roast as many heads of garlic as you wish with this recipe. I roasted 6 heads of garlic, but honestly, you can roast as many or as few as you like.
For more delicious vegetarian recipes, please visit our recipe page.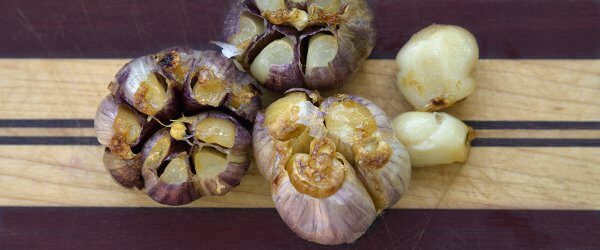 | | |
| --- | --- |
| | |
Remove the outer layers of paper from the garlic, leaving just enough to hold the garlic cloves together. Cut 1/4" from the top of the head to expose the tops of each clove.

Pour 2 teaspoons of olive oil in to each the heads, allowing the oil to drizzle down into the cloves.

In a small baking dish, arrange the cloves, cut side up. Cover dish with aluminum foil and roast for 35 minutes. During the last 5 minutes uncover the garlic and allow to roast with the heads exposed, in order to brown the tops of the cloves.

You can eat these straight out of the oven they are so good. Try them on toast, cracekrs or in your mashed potatoes. There is no end to the possibilities with roasted garlic.