Sometimes, there is nothing better than a great dessert that you can just throw together, no cooking or baking involved. Memorial Day is coming soon and weather permitting, we are attending a couple of barbecues. We are desperately trying to will the warm sunshine to make an appearance next weekend for the holiday. And if it does, I don't want to be in the kitchen making party desserts. This Red, White and Blue Trifle is not only beautiful and festive for the holiday, but it is so quick and easy to put together, that I can make two of them, one for each of my parties, in no time flat, so that I can get outside.
When I have been rushed for time, I have not baked the cake for this red, white and blue trifle, but simply purchased all the components and assembled this trifle right before our company arrived. It is delicious everytime and has become one of my go to recipes.
In honor of Memorial Day and Independence Day, I have filled our trifle with strawberries and blueberries. Fill yours with your favorite fruit combinations. Raspberry and peaches, mango and papaya, blackberry and apricots – the possibilities are endless.
This trifle is a delicious and light finale for any summer meal. Serve it after some vegan burgers and our potato salad and grilled corn for an amazing summer meal.
I will see you outside.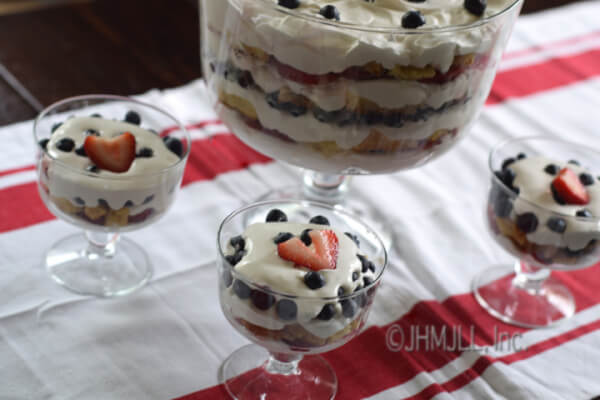 | | |
| --- | --- |
| | |
Cut cake into small bite pieces.

In the bottom of your bowl, put a thin layer of whip cream.

On top of whip cream, layer strawberries, then cake pieces, a layer of whip cream and then blueberries.

Repeat until bowl is full.

Cover gently with plastic wrap and refrigerate until needed.
*In our home, we have lactose issues, so I always use a non-dairy whipped cream. While preparing the individual trifles, I ran out of whip cream substitute and the only thing I had was lactose free ice cream. It was a delicious accident. I would not advise using ice cream for the large trifle, but If you are making individual trifles with ice cream, you will need to assemble them right before serving.
This Red, White and Blue Trifle recipe is vegetarian, gluten free, dairy free (with substitutions.)