We love corn on the cob in our house and we eat a lot of it. I love that grilling corn is easy to do and I don't have to heat my house up. The char from the grill adds a nice flavor to the corn. You can grill it in the husk and then peel back the husk to use as a handle to eat the corn, but I found that it is just tiny bit cleaner when we use corn on the cob holders. I usually plan on serving our grilled corn outside. The kids always think it is a special treat to be able to eat in the backyard, but to be honest, I am just trying to save myself from cleaning up all those little bits of corn.
This version of corn on the cob is very tasty. It is based on Mexican Street corn or elotes. It is a delicious combination of flavors and spices. If you are looking for a way to try different flavors, I would encourage you to try this recipe. This recipe is for 12 servings, but the recipe is easy to scale up or down for your own needs.
We love the taste of elotes so much, that I make this recipe even when corn is not in season. I use frozen corn kernels and once it's cooked, I mix in the butter and mayonnaise and sprinkle the rest of the ingredients on top. Served in a bowl, my family takes what they like and then finishes their corn off with a squeeze of fresh lime. It tastes delicious and reminds us of summer.
You will never go back to plain corn on the cob.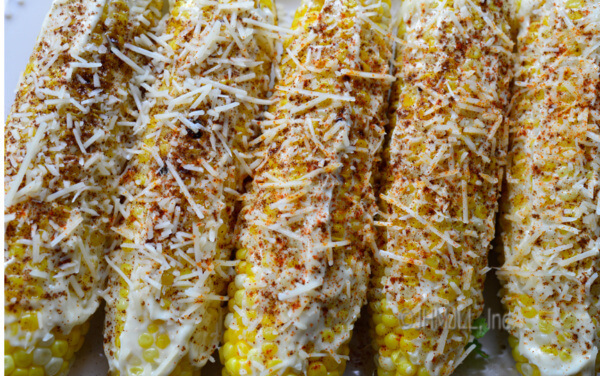 | | |
| --- | --- |
| | |
Shuck and clean corn, making sure to remove corn silks.

Wrap each ear of corn in aluminum foil, twisting at the ends to keep foil tight.

Place on a medium hot grill for 10 - 15 minutes. Rotate cobs every five minutes. Corn is done when some kernels are blistered with a little char.

Carefully remove corn from foil.

Roll corn in butter, then coat with mayonnaise.

Sprinkle with cheese or if desired, roll in cheese.

Sprinkle with a generous coating of chili pepper.

If desired, finish with cilantro and a squeeze of fresh lime.
This Grilled Corn on the Cob recipe is gluten free and vegetarian.