I have many recipes that have Gorp included in them. This is because Gorp is one of my kids' favorite foods in the whole world. They will eat Gorp, any time of the day. This Gorp Popcorn is no exception.
My daughter eats this popcorn combination about 4 nights a week. It is never a good night in our home when we run out of marshmallows or chocolate chips.
I prefer using mini M&Ms® in this popcorn mix, because they do not melt as fast as chocolate chips.
If you would like to find more vegetarian recipes, check out our vegetarian site at www.nowfindvegetarian.com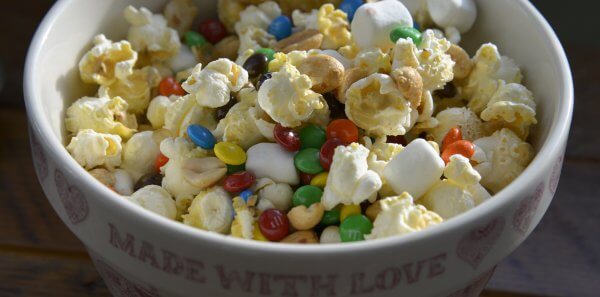 | | |
| --- | --- |
| | |
If butter and salt are desired, melt butter and then add butter and salt to popped popcorn - gently tossing the popcorn to make sure everything is evenly distributed.

Allow popcorn to cool for a minute, and then add remaining ingredients, tossing gently to distribute.