I was excited when I discovered that Fruit Roll Ups were so easy to make at home. I have never met a child who didn't smile when offered a fruit roll up. Sweet and chewy, and slightly sticky, they have always been a very popular snack choice with children of all ages.
Unfortunately, two of my children were not able to have commercially produced fruit roll ups because of their food allergies. They always wanted to bring home boxes of fruit roll ups from the grocery store so that they could be like their friends. I searched high and low trying to any sort of safe substitution that would make them happy.
And then I found out how easy they are to make and delicious. It was a very happy day in our home. I love that my kids are able to have roll ups, that look like the ones that their friends eat, while at the same time, I am able to control the ingredients and rest easy knowing that they will be safe.
Try different fruit combinations. Our favorites are mango/guava and blueberry/cherry. And you can never go wrong with strawberry.
For more delicious vegetarian dishes, check out our recipes.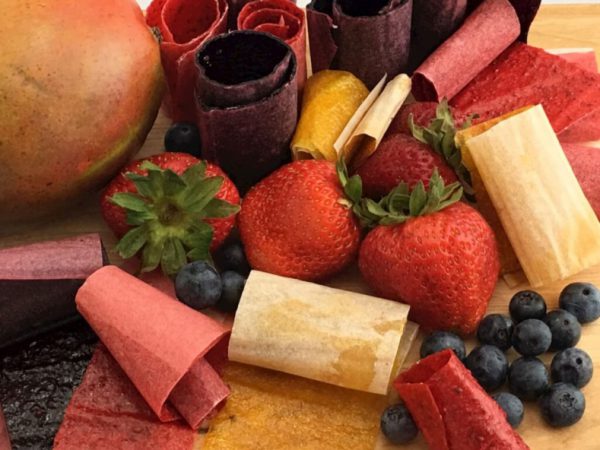 | | |
| --- | --- |
| | |
Place fruit into a saucepan and cook on medium for ten minutes.

Add lemon juice to fruit, 1/2 tablespoon for 2 cups of fruit.

Put fruit in a heat safe blender or food processor or use an immersion blender to process fruit until smooth.

Pour fruit mixture onto a parchment paper covered baking sheet and spread evenly.

Bake in a 170 degree oven until the center is dry. Remove pan from oven and allow to cool completely.

Leaving parchment paper on, cut into strips and roll.

Store in a plastic storage bag.
This Fruit Roll Ups recipe is gluten free, dairy free, vegetarian and vegan.