Having quick appetizer recipes that use simple ingredients is so helpful. I like not having to search for something to put together for a last minute occasion. It is even better when the ingredients are items that I normally have in my kitchen. We enjoy Caprese salad all year long. When we were brainstorming ideas for appetizers, we starting talking about Caprese salad. That conversation evolved into the question-could we make it bite size? Imagine a caprese salad in just one bite? Yum! These Caprese bites are light and refreshing making them the perfect appetizers for a New Year's Party.
This is one of my favorite recipes because with just a few ingredients, you can whip these together in no time at all. These Caprese bites are full of color and are beautiful on a table of appetizers.
Serve these up with a drizzle of olive oil and salt or a balsamic vinegar glaze or enjoy them all by themselves.
For more delicious, vegetarian recipes to kick off your New Year, please visit our recipe page.
Need help finding vegetarian items in your grocery store? Download our free mobile app with scanner today to ease the stress of shopping for vegetarian and vegan grocery items.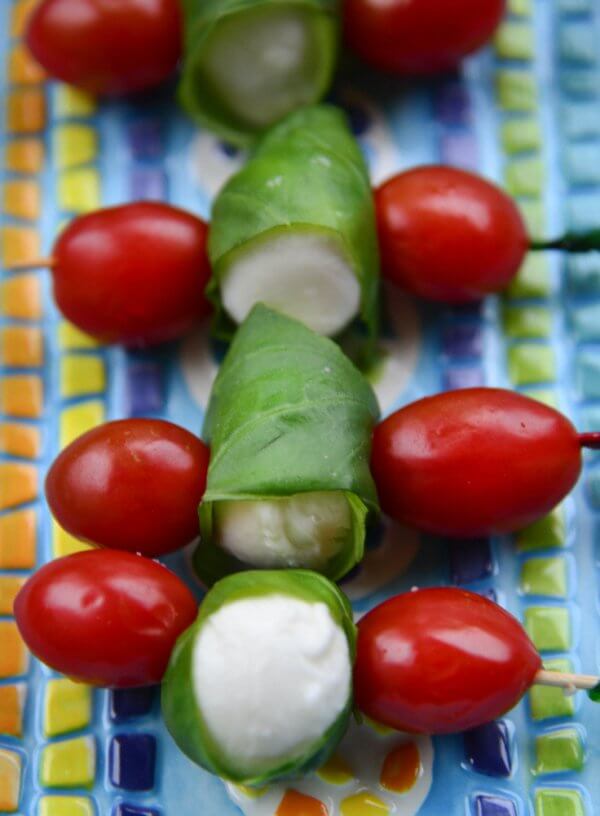 | | |
| --- | --- |
| | |
Wash the tomatoes and pull of green tops, if any

If you bought larger mozzarella, cut it into pieces just a bit smaller than the tomatoes

Take the fresh basil and cut the leaves in half (if necessary depends on how big the leaves are) and wrap them around the piece of mozzarella

Take an extra long toothpick and insert one tomato, the cheese with basil wrapped around it and then another tomato

Optional toppings are a drizzle of olive oil and a sprinkle of sea salt or a balsamic glaze.

It is honestly that simple and yet incredibly delicious
For a balsamic glaze, take 1 cup of balsamic vinegar and 1 tablespoon sugar heat in a small saucepan until reduced by half about 15-20 minutes. Let cool
This Caprese Bites recipe is gluten free and vegetarian