When it is cold outside, I crave hot food and where we live it has been a very cold winter. Sick of plain scrambled eggs and pancakes, I was searching for breakfast ideas when I found a recipe for Huevos Rancheros.  I thought it had some potential, but I really wanted more fresh ingredients.  So after noodling on it for awhile, I created a refreshing twist on an old favorite. Instead of a warm salsa, these vegetarian breakfast tacos have fresh ingredients and are served with pico de gallo.
Be creative with your ingredients and try different toppings. After I prepare the filling ingredients, my family will make their own tacos with their favorite fillings. For these tacos, I had sauteed mushrooms from the night before so I heated them up and added them to my tacos. They also add a nutritional boost. If you have swiss chard or kale, switch those greens in for the lettuce.
These tacos are also perfect for those times when you have not pulled anything out for dinner. Serve them up with a salad or with quick fried potatoes for a filling and delicious dinner.
For more delicious vegetarian dishes, check out our other recipes.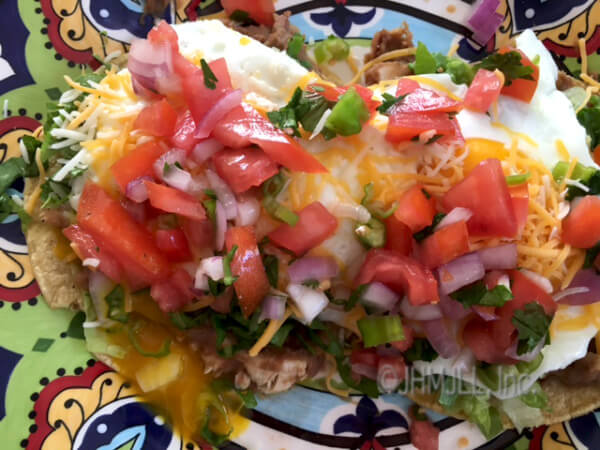 | | |
| --- | --- |
| | |
Prepare pico de gallo. Set aside.

Rinse, drain and chop the lettuce. Set aside.

If using leftover mushrooms, warm them until heated through. If using fresh mushrooms, saute in a hot saucepan with 2 tablespoons of olive oil, until lightly browned, about 5 minutes. Turn heat to low and stirring occasionally, cook mushrooms until tender, about 5 minutes.

In a small saucepan heat the refried beans, Turn heat to low, stirring occasionally to keep warm.

Divide tortillas into 4's and wrap them in a paper towel, microwave for 30 seconds or cook tortillas in batches of 2 in 1 tablespoon of hot olive oil in a large non-stick skillet about 2 minutes each side and set aside.

Add 1 tablespoon of olive oil to a non-stick skillet and cook 4 eggs at a time. Cook the eggs to your to your preference. For this recipe I cooked the eggs for about 3 minutes on medium heat and covered the skillet with a lid. To add extra steam to cook the tops add a teaspoon of water to the pan and let the steam cook the tops of the eggs.

Spread 1/4 cup refried bean mixture and 1/4 cup sauteed mushrooms on each tortilla.

Add 1/4 cup chopped lettuce to each tortilla.

Add 2 eggs to each taco, then top each taco with 1/4 cup of cheese and 1/4 cup of fresh pico de gallo.

If desired, garnish with fresh avocado slices and chopped cilantro.
Click here for the pico de gallo recipe.
This Vegetarian Breakfast Tacos recipe is gluten free, vegetarian and dairy free and vegan with substitutions.